Atletico Madrid vs Valencia
mar, 23 avr 2019

ou

jeu, 25 avr 2019

, Estadio Wanda Metropolitano

.

Rappelez-vous:
*La date et l'heure sont confirmées 4-10 jours avant la date du match!
* Vous n'obtiendrez JAMAIS de place isolée. Vous bénéficierez toujours de sièges à côté de vos amis, juste devant ou juste derrière vos amis si vous réservez ensemble. Ceci est notre garantie!
* Votre place sera toujours située du côté des supporters locaux.

Merci de bien vouloir lire attentivement, ce qui suit afin d'être bien préparé pour remplir votre réservation.

Ci-dessous vous pouvez en savoir plus sur les places et catégories que vous pouvez réserver pour votre match de football.

CATEGORY LONGSIDE:

* Tickets are in ring 3 (Upper Longside, Lateral Oeste). The Burgundy Red area on the arena plan.

* Stadium tour included.

CATEGORY SHORTSIDE:

* Tickets are in

Short Side (

Short side is the entire goal side)

.

* Stadium tour included.

VIP CLUB ESTE

:

* Tickets are in

ring 2 (Longside), Block 228, row 11.

* Centrally located in the East Stand in the heart of the middle tier.

* Easy and direct access to lounge from ground level and parking.

* Family friendly lounge below, interactive food stations.

* New catering experience, street-market style, buffet.

*

Food & Drinks included.

* 1 parking space per 4 persons.
Arène/Stade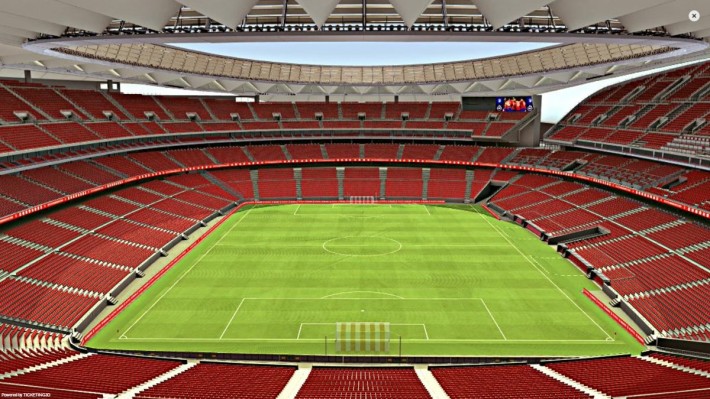 Estadio Wanda Metropolitano
Métro/Subway
Line 7 Estadio Metropolitano (Olimpico)
La capacité du stade
67.000
Itinéraire
Estadio Wanda Metropolitano
Adresse
Estadio Wanda Metropolitano, 28022 Madrid, Spain